Innovative Win-Win-Win Technology
Innovative
win-win-win
technology.
Introducing Meyer Burger's superior solar panels
that benefit you, your customers, and the environment.
As an installer, you are the driving force behind a brighter and more secure future. You're bringing clean energy to households and businesses nationwide, empowering people to take control of their energy consumption and reduce their carbon footprint. You're the hero of the energy revolution. And we're here to support you with the latest generation of reliable, robust, and durable solar panels.
Discover the advantages of our solar panels and become the go-to installer for high-quality, efficient solar solutions with Meyer Burger's superior solar panels.
Our solar panels are built with advanced heterojunction technology, refined for even greater efficiency. Our patented SmartWire technology (SWCT®) reduces shading on the cell by up to 30 percent, resulting in impressive energy efficiency. Our panels absorb more solar energy than conventional cells, delivering more power per surface area and a substantially higher energy yield for your customers.

With Meyer Burger's solar panels, you can offer your customers superior technology that provides more energy, more savings, and a brighter future for all.
Meyer Burger superior solar panels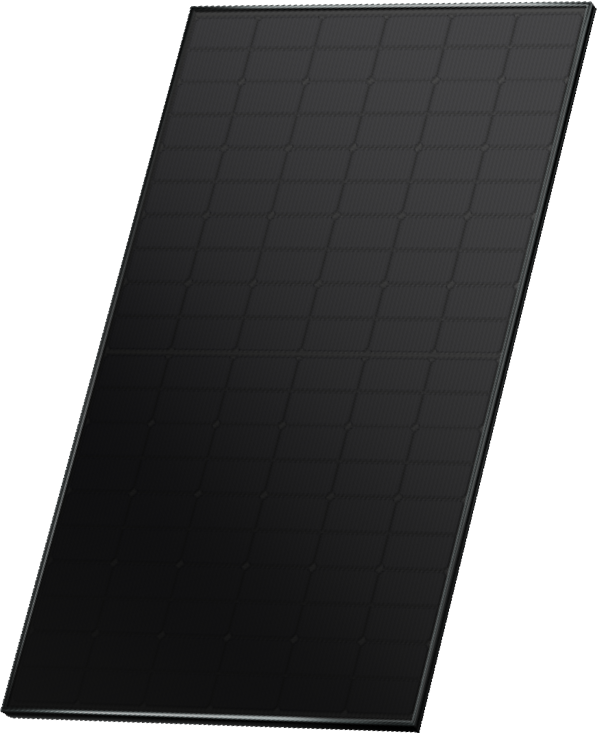 Black – the epitome of elegance
Rated power 375–395 Wp
Efficiency: 20.4–21.5 percent
Modern, elegant design
Black backsheet foil
Module with 120 half-cells, monocrystalline n-Si, HJT (heterojunction) cells
Dimensions [in]: 69.6 x 41.0 x 1.4
Weight [lbs]: 43.4
25 years product and performance warranty
Read less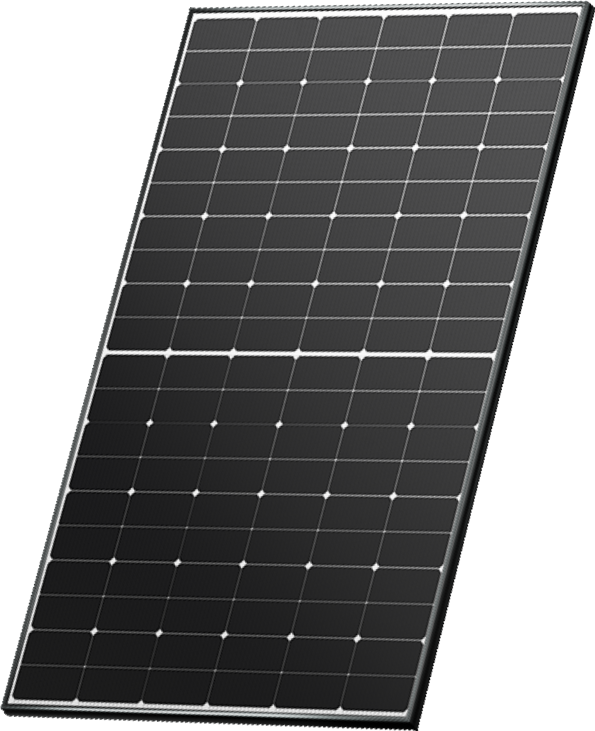 White – the top performer
Rated power 380–400 Wp
Efficiency: 20.7–21.7 percent
White backsheet film
Module with 120 half-cells, monocrystalline n-Si, HJT (heterojunction) cells
Dimensions [in]: 69.6 x 41.0 x 1.4
Weight [lbs]: 43.4
25 years product and performance warranty
Read less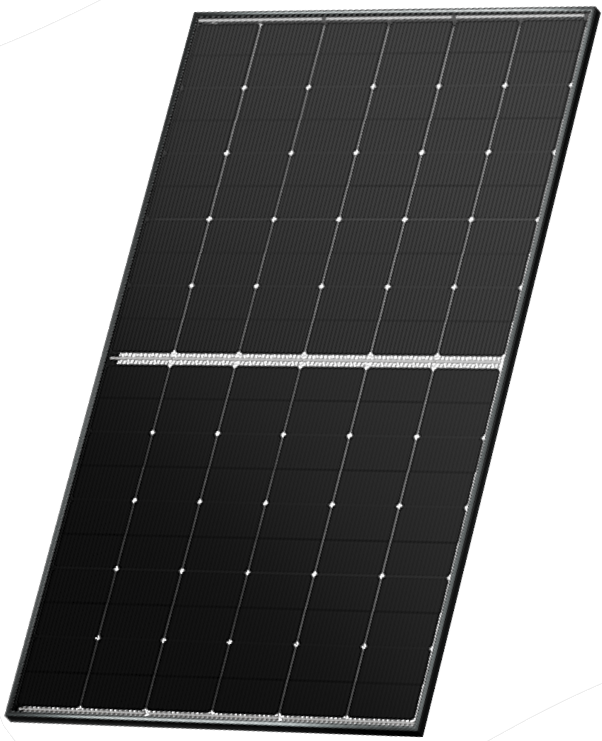 Glass – simply special
Rated power 370–390 Wp
Efficiency: 20.6–21.8 percent
Transparent glass back
Module with 120 half-cells, monocrystalline n-Si, HJT (heterojunction) cells
Bifaciality factor of 90 percent
Dimensions [in]: 67.8 x 41.0 x 1.4
Weight [lbs]: 53.8
30 years product and performance warranty
Read less
You can count
on Meyer Burger
Our promise of success to you.
Introducing superior solar panels designed with you in mind. At Meyer Burger, we prioritize your needs and expectations when developing our photovoltaic products. Our crystalline solar cells and premium panels are designed with your input, integrating your opinions, wishes, and suggestions into every aspect of our product development.
Our high-performance heterojunction solar panels with SmartWire Connection Technology (SWCT®) can produce more electricity than comparable standard panels in the same space. This means you can provide your customers with superior solar panels that deliver more power per cell. With Meyer Burger, you can be confident that you're offering the best solar solution.
At Meyer Burger, we believe that solar power should be accessible to everyone, and that's why we're committed to creating premium solar panels that offer unbeatable value. In addition, our advanced technology makes solar power more efficient and cost-effective for you and your customers.

We're also dedicated to providing the best customer experience possible, from our reliable and stable performance guarantees to our UL certification and strict environmental standards. And with our locally sourced and manufactured solar panels, you can enjoy the peace of mind of supporting your community and the American solar industry.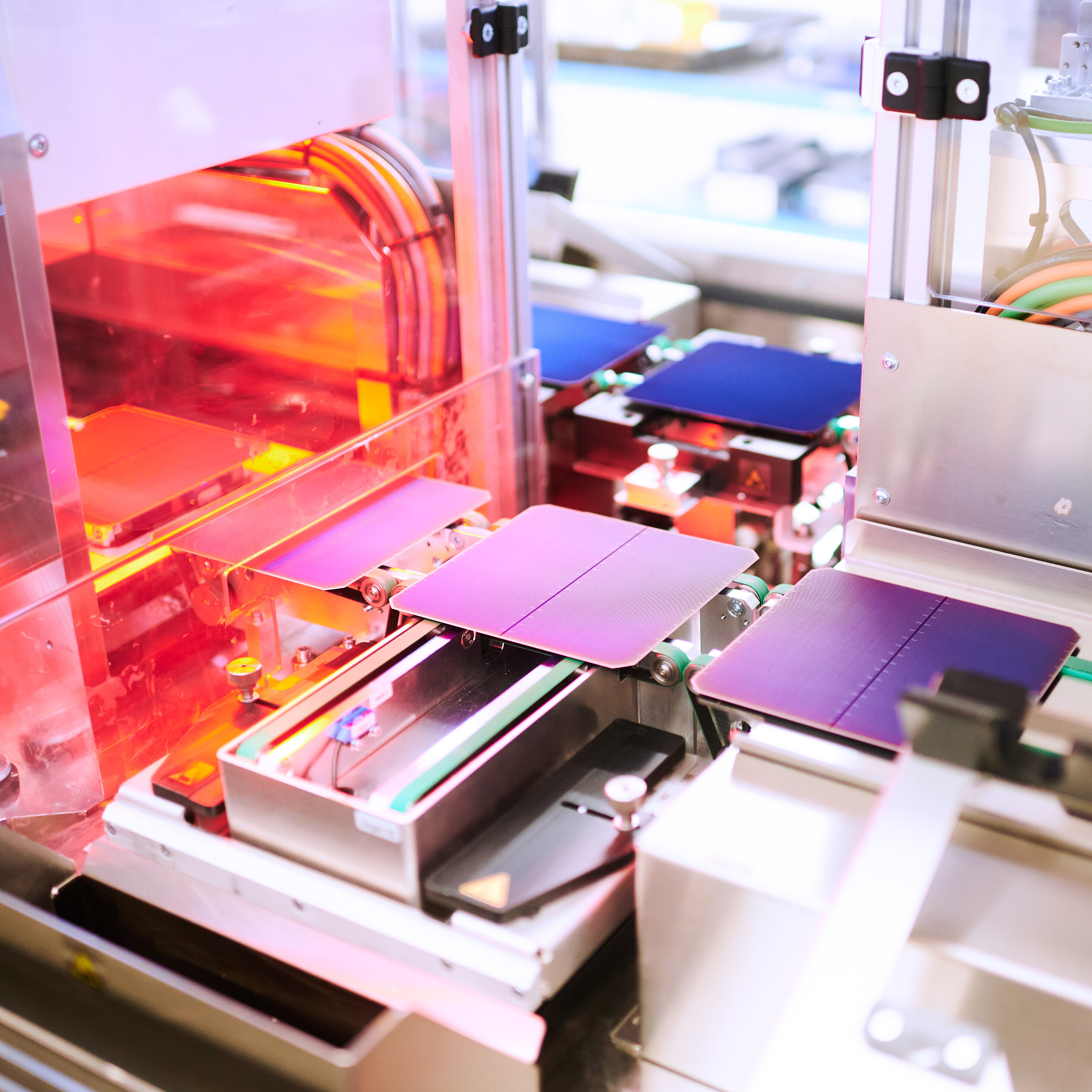 For more yield on all roofs
Advantages of heterojunction technology
Combining the advantages of two cell technologies - crystalline and amorphous
Highest bifaciality: symmetrical cell structure - the crystalline silicon cell core is surrounded by amorphous layers
Outstanding efficiency: the amorphous layers on top and bottom of the core ensure minimal electron losses
Maximum yield: better low-light performance and better temperature coefficient for more power even on cloudy and very hot days
High resource conservation: by using very thin n-type silicon wafers

Heterojunction technology is the ideal basis for developing further cell concepts with even higher efficiencies.
For maximum stability and careful use of materials and resources
SmartWire Connection Technology (SWCT®)
Patented technology for electrical cell contacting in the solar module
Direct integration of the smart wires into the encapsulation foil to ensure the best electrical contact
Round smart wires minimize optical shading effects in the module and thus ensure higher yields
Material- and energy-saving process combination by establishing the electrical interconnection during the lamination process
Advantages of SWCT® at a glance
Extremely gentle on materials: low-temperature cell-contacting process reduces thermal stress and ensures maximum cell stability within the module
Absolutely environmentally friendly: energy-saving production process and consistent elimination of lead
Maximum resource conservation: significant lower silver consumption
Highly aesthetic: homogeneous appearance due to cell design without busbars
Get the ultimate in solar panels with Meyer Burger.


Request your quote today!
Reliable & powerful - like our installers
Become part of our installer network
As a specialist partner, you will benefit from access to attractive
new customer projects and our marketing activities.
Sign up
Let's talk!
Our service team looks forward to answering your questions
about the topics of product, technology and sustainability.
Contact sales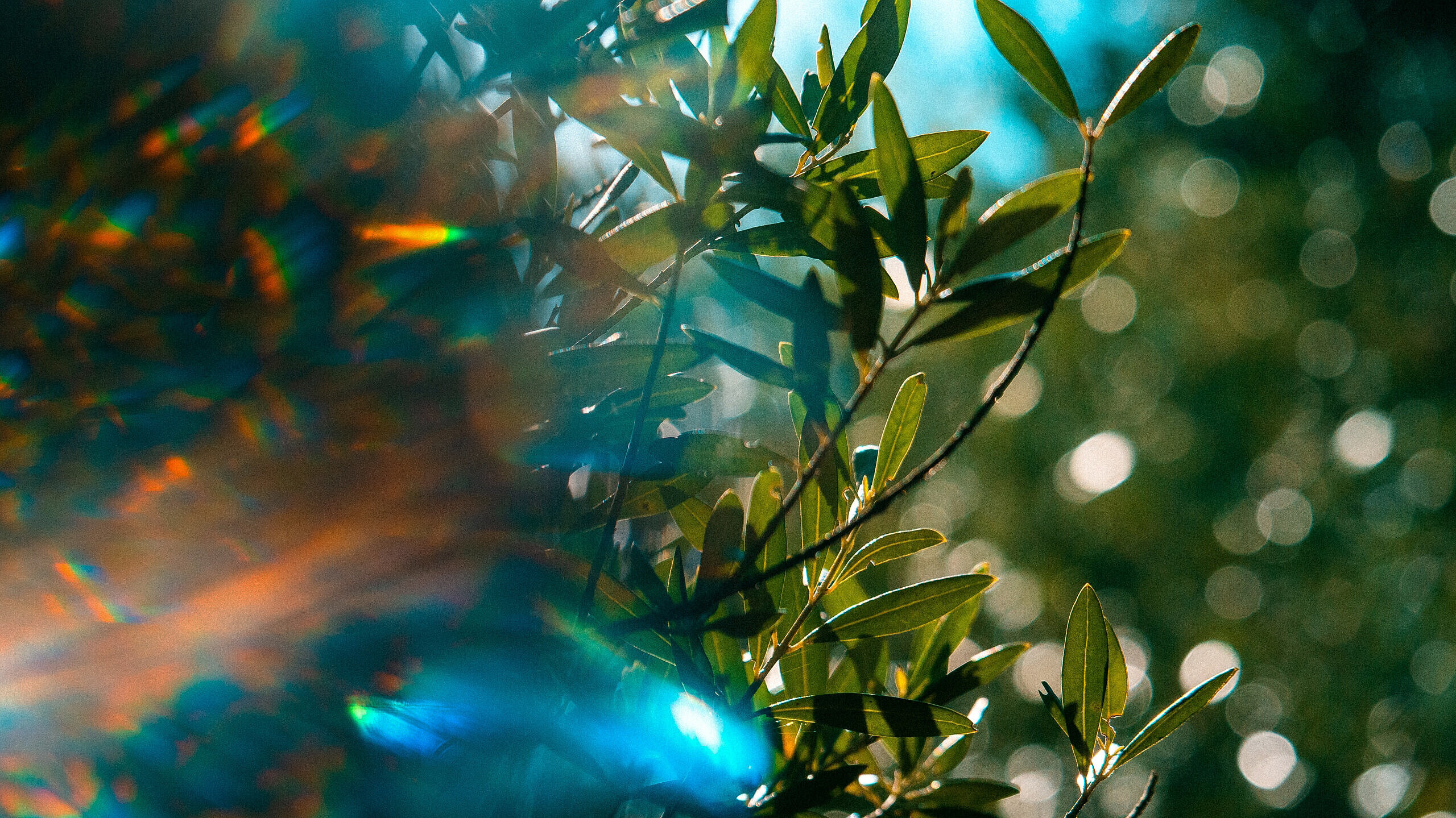 Sustainable production
We want to make energy production more sustainable. Our powerful solar panels will enable your photovoltaic customers to generate their own solar power with zero emissions and do it with a premium product that is manufactured per the strictest environmental standards and generates an extremely high electric current efficiency per solar cell.
Unlike other manufacturers, we refrain entirely from the use of lead (a toxic heavy metal) in our solar panels, use considerably fewer solvents per cell, power our production facilities with energy from renewable resources, and will recycle our end-of-life solar panels as fully as possible.
Longevity and stable
solar energy yields
Our solar panels are of premium quality, perfectly crafted, and flexible in their use. The SWCT® technology used in the panels improves both cell stability and efficiency, making the systems less susceptible to microcracking, one of the most common causes of energy losses in solar panels. The unique, ultra-stable backsheet protects cells against moisture and other environmental factors.
Market-leading guarantees
Incomparable performance means that your customers will enjoy high yields for many years to come thanks to the industry-leading warranty package we offer under German law for all panles. Our solar panels come with standard product guarantees of 25 years (glass-foil) or 30 years (glass-glass).
Additionally, we guarantee reliable and stable performance for decades: the performance of all panels is still at 92 percent after 25 years. For our glass-glass products, we even guarantee that their performance will exceed 93 percent of their initial maximum performance after 30 years.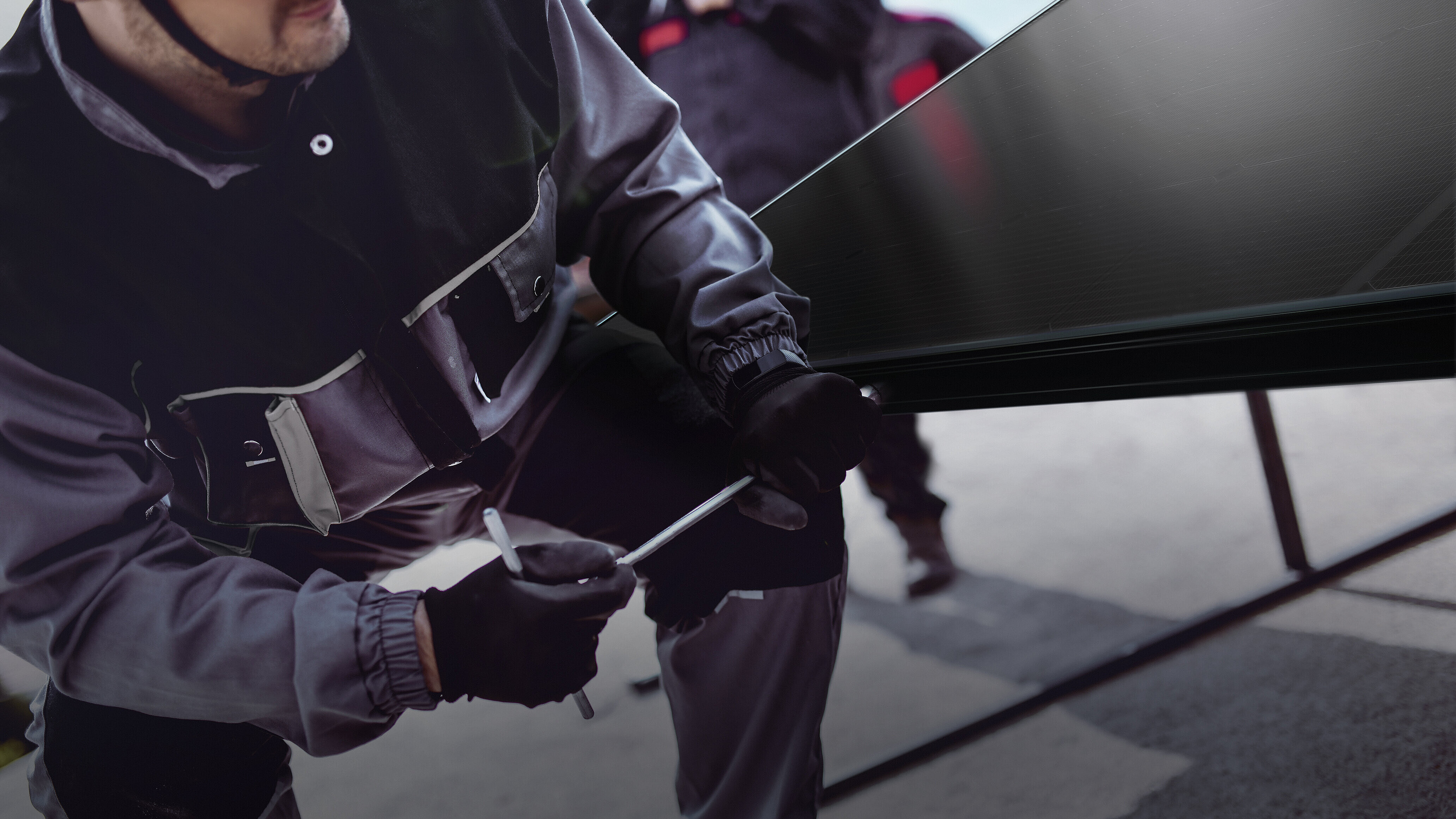 Customer acquisition support:
comprehensive marketing and
information materials
You'll find all the information you need about our products in a compact, easy-to-understand format in our brochures, data sheets, and installation instructions.
Our materials
Become a partner
By registering in our installer finder, you benefit directly from our marketing activities and access to new customer projects. As part of our network, our team of experts will be at your side as partners in consulting, service and product issues and will support you in achieving sustainable growth.
Contact
Do you have a question? So do we.
How can we best help you?
We look forward to hearing from you!